23. März 2014
Informationen aus den Webseiten Gateway to hell und The Bunny Alliance:
Great news. The Bunny Alliance and PETA (People for the Ethical Treatment of Animals) just received official word that China Southern Airlines, the last commercial airline willing to transport primates out of China for vivisection laboratories, has conceded to the demands of activists and stopped shipping primates!
Der Druck auf die letzte europäische Fluggesellschaft, AIR FRANCE-KLM, die noch Versuchstiere transportiert, wird weiter mit unzähligen internationalen Aktionen ausgeübt:
Stop Vivisection – Kampagne gegen Tierversuchstransporte durch AIR FRANCE / KLM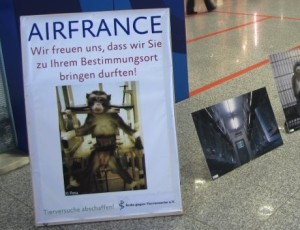 NON à AIR FRANCE ! Je boycotte AIR FRANCE.
NEIN zu AIR FRANCE! Ich boykottiere AIR FRANCE.
—————————————————————–
In Liebe und zärtlichem Gedenken der vergessenen Tiere,
in Stehsärgen ohne Nächte und Tage,
in den Forschungslaboratorien von Medizin und Wissenschaft,
denn sie sind die Opfer eines endlosen, irren Verbrechens.
(anonym)
.
---